Astoria Travel Guide
How To Spend A Weekend in Astoria
Top things to do in Astoria including where to eat and best places to stay.
Northern Oregon Coast Road Trip
Visit Astoria and other seaside towns on this Northern Oregon Coast road trip. A driving itinerary covering highlights and best stops along the northern Oregon coast.
Popular Activities in Astoria, Oregon
Oregon is famous for it's plentiful craft beer breweries and Astoria is no different. Stop in at Fort George Brewery which has expansive river views and tasty wood-fired pizza to go with your brew, then head to one of Oregon's oldest operating craft breweries, Rogue Ales Public House, and finish up at Buoy Beer Co., which sits on top of the Columbia River itself complete with barking sea lions carrying on beneath the building.
Astoria is seeing a stream of pioneering restaurants popping up following in the footsteps of Portland. With so many great eateries in town, it is worth visiting Astoria just to go on a food crawl. There are the usual classics that are always satisfying such as steaming bowls of clam chowder from Mo's, and fish and chips from Bowpicker Fish & Chips which lures people in with its unique twist on fried fish, frying up battered albacore tuna instead of using white fish. Then there are the ambitious eateries that put a unique spin on seafood classics such as Dungeness-topped deviled eggs and oyster poutine at The Albatross.
Oregon's north coast has been home to many popular 80's and 90's films such as Kindergarten Cop and Short Circuit but none of those bring more tourists into town then the cult film The Goonies. You can take a self-guided tour of the 'goondocks' movie scene locations throughout Astoria which include the Flavel House Museum and the Oregon Film Museum which use to be the county jail. Astoria even holds an annual Goonies Festival on June 7th which fans from around the world flock to celebrate the film and participate in scavenger hunts.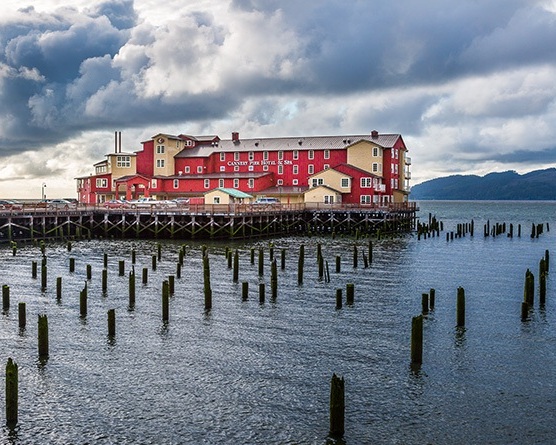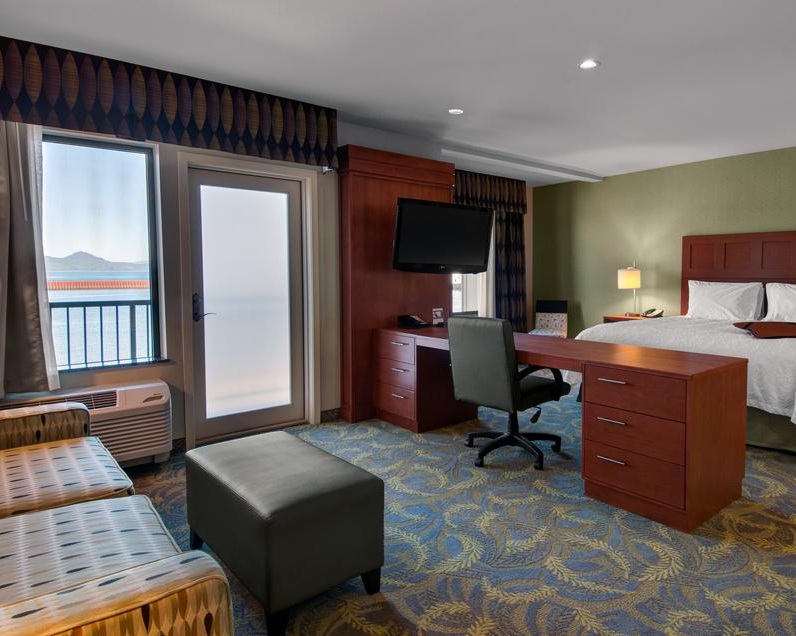 Best Times To Visit Astoria
The busiest month for tourism in Astoria is August followed by July and June. Prices for hotels and flights will be most expensive during these months although you can save if you book your accommodations and flights well in advance.
The warmest months are between July and September which also has the lowest chance of precipitation with the month of August being the least likely to see rain. The rainiest time of year is early March which coincides with it also being the windiest time of year followed by December.
Weather by seasons
Summer - The hottest months in Astoria are August, July and then September. Generally averages highs are around 73 degree with temperatures rarely dropping below 53 degrees at night.
Spring - From March through May temperatures still remain quite cool with highs ranging from 64-52 degrees. Rain is most frequent in spring with 9 to 18 rainy days per month. This is the second busiest time of year in terms of tourism.
Autumn - In Autumn, average temperatures range between 72-52 degrees with it really beginning to cool down in October. You can expect about 6 to 15 days of precipitation per month.
Winter - This is the slowest time of year for travelers coming to Astoria and lodging prices drop dramatically. Average highs are between 48-52 degrees and chances of rain increase with precipitation on average occurring 14 to 18 times per month.
Search all lodging options in Astoria